Activities include:
walking, jogging, hiking, golfing and playing team sports such as baseball, basketball, softball, soccer, football, tennis and fishing.
Resources
To view regional resources, please click on the map below.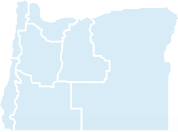 North Coast
Portland
Willamette
South Coast
Southern Oregon
Central Oregon
Eastern Oregon
Health benefits
Lowers your risk of heart disease, stroke, high blood pressure, diabetes and some cancers
Great for your heart and lungs
Promotes weight loss and healthy weight management
Builds strength, muscle tone and stamina
Reduces anxiety and depression
Improves your mood and self-esteem
Feel more energetic and sleep better
Equipment
Comfortable footwear with proper arch support
Appropriate layers of loose fitting clothes
Socks and sports bra (made of moisture-wicking fabric)
Water bottle for proper hydration
Sunscreen, sunglasses and hat
Backpack, bug spray, map and walking poles
Appropriate gear (e.g., golf clubs, cleats, helmet, baseball glove, tennis racket, etc.)
Fishing pole, bait and valid license
We're sorry, this information is not available in . Please use the dropdown at the top of the page if you would like to view information for another state.