Activities include:
stretching, yoga and meditation, listening to music, tai chi, massage, canoeing, horseshoes, touring museums, gardening and bird watching.
Resources
To view regional resources, please click on the map below.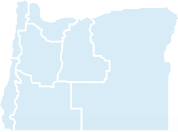 North Coast
Portland
Willamette
South Coast
Southern Oregon
Central Oregon
Eastern Oregon
Health benefits
Lowers blood pressure, breathing rate, heart disease and stroke
Relieves stress and other medical symptoms related to asthma, back pain and arthritis
Reduces muscle tension and chronic pain
Improves your concentration, mood and mental well-being
Boosts your immune system
Improves body posture
Increases lung capacity and endurance
Enhances learning and memory
Equipment
Comfortable workout clothes (exercise pants, shorts, capris, etc.) for free movement
Yoga mats, blocks and straps
Water bottle for proper hydration
Sunscreen, sunglasses and hat
Comfortable walking shoes
Preferred music equipment (home or mobile technology)
We're sorry, this information is not available in . Please use the dropdown at the top of the page if you would like to view information for another state.