Activities include:
intense cycling, recreational biking, roller skating, inline skating and skateboarding.
Resources
To view regional resources, please click on the map below.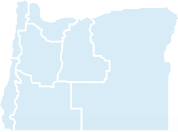 North Coast
Portland
Willamette
South Coast
Southern Oregon
Central Oregon
Eastern Oregon
Statewide
Health benefits
Helps improve cardiovascular fitness and endurance
Lowers your risk of heart disease, stroke, high blood pressure, diabetes and some cancers
Increases blood flow and lung capacity
Healthier bones, muscles and joints
Helps you burn calories and shed unwanted pounds
Improves balance and coordination
Handle stress better (have resilience)
Feel more energetic and sleep better
Equipment
Helmet and bike gloves
Protective pads for elbows, knees, wrists, etc.
Comfortable athletic footwear
Socks and sports bra (made of moisture-wicking fabric)
Water bottle (with waist or bike holder)
Bright colors or reflective tape for safety
Sunscreen, sunglasses and hat
Portable pump or tire patch kit that attaches to bike
We're sorry, this information is not available in . Please use the dropdown at the top of the page if you would like to view information for another state.