Close
ID number
Look on your member ID card for your ID number.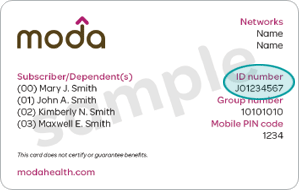 Contact us if you don't have your member ID card.
You may also log in to your myModa account to see only providers in your network.
Close
As a Moda Health member, you have access to a network of selected health providers. These in-network providers have contracted with Moda Health to provide benefits at agreed upon rates. You can choose to see an out-of-network provider, but you may have more out-of-pocket expense. You'll get the most from your health benefits by selecting an in-network provider. To learn what Moda Health network you are on, please consult your Member Handbook.