OEBB members,
experience healthcare that

revolves around you
Powered by
Moda Health and Delta Dental of Oregon are making it easier to choose and use the right plan for you and your family. Our health plans give you better benefit choices, better care and our largest network - Connexus. Plus, you get our Moda 360 team of Health Navigators to connect you with the care, resources and programs that will work best for you.

2021-22 Pharmacy updates
As a reminder, we changed our pharmacy benefits manager to Navitus on Oct. 1, 2021. Please make sure to share your new ID card or the following information with your pharmacy:

PCN: NVT
BIN: 610602
Rx group: OEBB

To find an in-network pharmacy click here:
Get the CirrusMD app to connect with a doctor via text, 24/7 at no cost to you. No appointments necessary. Use the app to:
Ask urgent or general health questions
Message, share photos or video chat
Get peace of mind, even at 2 a.m.
Help reduce stress, depression and everything in between with a 12-week therapy program offered through Meru Health. Enjoy:
Confidential access to a personal, remote therapist
Mindfulness and behavioral techniques that can be practiced anytime
Wearable biofeedback training to increase focus and manage stress
Plan summaries and presentations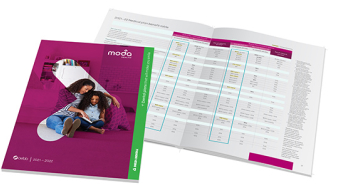 With Delta Dental of Oregon plans, you'll receive access to the Delta Dental network of providers, the nation's largest network.
The Delta Dental Exclusive PPO plans are affordable options that use the Delta Dental PPO network. Since providers outside of the network are not covered, be sure to confirm that your provider is part of the PPO network.
For additional plan details, see your Member Handbook.
Quick Search for Providers
Dental
Medical
Pharmacy
Vision

How to get free at-home COVID-19 tests
As a Moda Health member, you can now get free over-the-counter (OTC) COVID-19 at-home tests. Here's how:
Order through the federal government: Visit COVIDtests.gov to order a set of 4 free COVID-19 tests. Every household in the U.S. can get the tests.
Order through the Costco Pharmacy website: Visit costco.com/home-delivery and follow these steps. Members do not need to be Costco members to use their mail order service.

Select "Mail Order"
Sign in or register for a new account
In the Patient Profile / Insurance section:

Would you like us to bill a prescription insurance plan? - select Yes
Select plan name drop down menu - skip this
Insert your name, date of birth, relationship to cardholder
Insert your member ID number and Rx Group number: OEBB
Insert your Plan name: Moda/OEBB
Insert your Bin: 610602 and PCN: NVT
Payment Method - skip this

Choose "Fill New Prescription"
Complete the Physician fields by entering these specific details:

Physician's name: Costco Test
Physician's phone: 800-111-1111
Physician's city: Seattle
Physician's state: WA

Select "My doctor will call or fax Costco. I do not have a written prescription."
Enter the following drug information into the Prescription drug name field: COVID tests
For shipping, select: "Standard USPS"

Pick up at your in-network pharmacy: When picking up a test at your pharmacy, show your Moda member ID card to get a free test.
We will reimburse you: If your pharmacy can't process the order, you can buy the test at the pharmacy or at another in-person or online retailer, then use our claim form to get reimbursed. We will reimburse up to 8 tests per member ($12 per test) over a 30-day period. This includes tests purchased on or after Jan. 15, 2022.
For more details and to find the correct reimbursement form, please go to our COVID-19 FAQ page.
If you are experiencing COVID-19 symptoms and need medical advice, we encourage you to call your doctor or take one of the following actions at no cost share to you:
Text a doctor - Cirrus MD for telehealth services
Call the Nurse Advice Line at 800-501-5046
Cost sharing is waived for COVID-19 vaccines.
Cost sharing is waived for COVID-19 testing needs, including:
A telehealth or in-person visit to be evaluated for COVID-19 testing
Provider office visit, urgent care center visit or emergency room visit to be tested for COVID-19
COVID-19 lab tests for all testing facilities
Serological antibody tests
Starting Jan. 15, 2022 up to 8 at-home tests per 30 days are covered without a provider's order. Learn more.
This is applicable to in-network and out-of-network providers, facilities, and laboratories. Out-of-network providers may bill you for amounts that are over the Maximum Plan Allowance when allowed by law. Members enrolled on a high deductible health plan (Medical Plans 6 or 7) do not need to meet their deductible before these services are paid; the above services are also covered at no member cost share with the deductible waived.
Cost sharing is also waived for in-network COVID-19 treatment services received on or before December 31st, 2021. This includes both inpatient and outpatient care, as well as FDA-approved medications administered inpatient for treatment of COVID-19.
Normal cost sharing will apply for COVID-19 treatment services received after December 31, 2021.
The Well - Our Seasonal Newsletter
We know you're busy, so we've kept it simple: Each edition of The Well is a quick read, with practical ideas to help you stay on the path to better health and clear information about your benefits, so you can make the most of your wellness journey. Think of us as your source for healthy inspiration, news and advice.
Questions?
We're here to help. Just email OEBBquestions@modahealth.com or call your Moda 360 Health Navigators:
Medical/Vision:
866-923-0409
Pharmacy:
866-923-0411
Dental:
866-923-0410
TTY users, please call 711
You can also chat with a Moda 360 Health Navigator by logging in to your Member Dashboard.
We're sorry, this information is not available in . Please use the dropdown at the top of the page if you would like to view information for another state.