Advanced Imaging and musculoskeletal utilization management programs
Working with eviCore
We want our members to get the best care for the best cost. And we know you do, too. That's why we partner with eviCore for prior authorization. eviCore uses evidence-based guidelines for their review process. We trust that our partnership with them supports our members and your work.
See if your patients require prior authorization through eviCore
Log in to Benefit Tracker or call our customer service team toll-free at 800-592-8283.
eviCore provides prior authorization reviews for many different services
Most often, eviCore reviews advanced imaging for radiology and cardiology (CT and PET scans, MRIs, etc.) and musculoskeletal services (chiropractic, acupuncture, massage, physical and occupational therapy, etc.). They may review different services for different plans. Please see the following list of CPT codes that require prior authorization:
Benefits of working with eviCore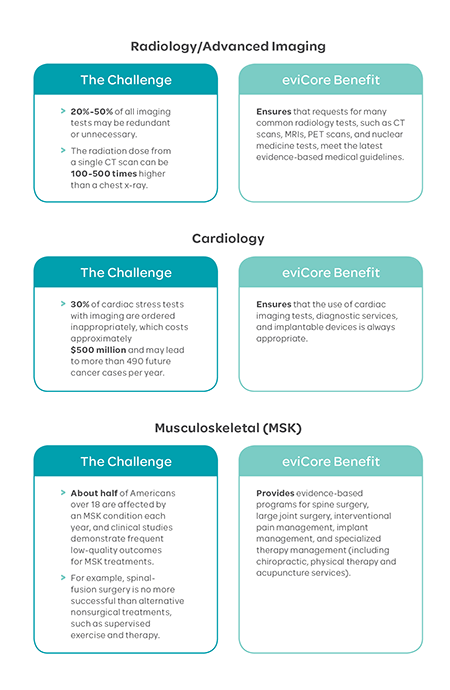 Overview of how Moda works with eviCore
Here's how eviCore's prior authorization process works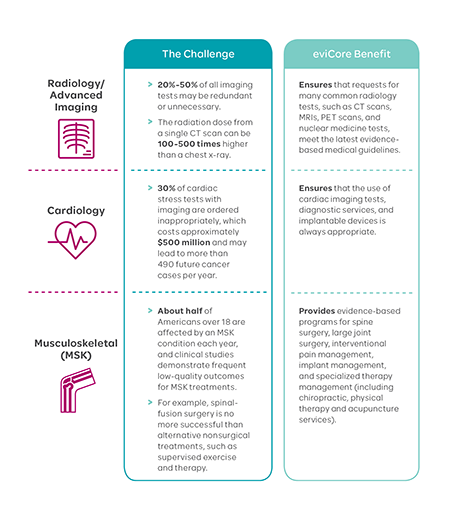 What to do if a prior authorization isn't approved
Guide to handling denied prior authorizations
Treatment for autism spectrum disorder and neurodevelopmental conditions
If you have questions about intensive outpatient rehabilitation authorizations for the treatment of autism spectrum disorder or neurodevelopmental conditions, please contact our Healthcare Services team at 800-592-8283.
Tips to help your prior authorization go smoothly
Ask your Moda Health Med PR representative to set up a customized training for your staff and eviCore's training team
Request a consult with a peer reviewer. Your request will be looked at to make sure it is available for this kind of review. To submit this request, please complete the online form. You will then receive a confirmation email, and eviCore's Physician Services Unit will contact your office to schedule an appointment time.
Consider using eviCore's Clinical Worksheets to make sure you are submitting information that meets their guidelines.
Opt in for medical
Tell us you're interested and we'll be in touch with details.
Get Started

Questions?
If you can't find an answer, please feel free to contact our Customer Service
Employer web tools
Benefit Tracker
Check benefits and eligibility
Provider Reports
For value-based provider programs, including Synergy, Summit, Beacon, Affinity, CPC+, and EOCCO
Benefit Tracker
Check benefits, eligibility, incentive and utilization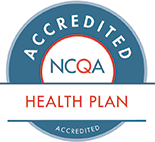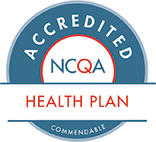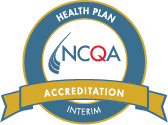 Hello.
We have exciting news to share. ODS is changing its name to Moda Health.
Moda comes from the latin term "modus" and means "a way". We picked it because that's what we are here to do: help our communities find a way to better health.
Together, we can be more, be better.
Please select the state you live in, or the state where your employer is headquartered, so we can tailor your experience: